What Lies Under "Lake" Powell Reservoir?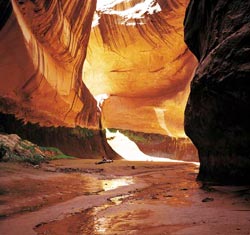 Cathedral in the Desert

Glen Canyon-the name alone evokes a beauty and tranquility for which the canyon has become famous. Covering a distance of 180 river miles, and intersected by dozens of side canyons, Glen Canyon delighted its visitors with the sheer diversity of its wonders, including Music Temple, Hidden Passage, Cathedral in the Desert, and Tapestry Wall-- to name but a few.
John Wesley Powell, the first Anglo to record his journey through the Glen, found in the canyon a sense of respite after his journey through the tumultuous rapids of Cataract Canyon. "We have [here] a curious ensemble of wonderful features," he wrote, "Carved walls, royal arches, glens, alcoves, gulches, mounds, and monuments. From which of these features shall we select a name?" He named it, of course, Glen Canyon, to honor the cool groves of gamble oak in which he and his men found shade.
Other writers found in Glen Canyon a beauty that rivaled, or at least complemented, that of the Grand Canyon. Wallace Stegner, winner of both the Pulitzer Prize and the National Book Award, found a sense of comfort in the Glen. "Awe was never Glen Canyon's province," he wrote. "That is for the Grand Canyon. Glen Canyon was for delight."
What did it mean to have such a place drowned? For Edward Abbey, drowning the Glen threatened to extinguish the very spirit of the Colorado Plateau. "The Canyonlands did have a heart, a living heart," he wrote, "And that heart was Glen Canyon and the golden, flowing Colorado River."
But Glen Canyon is still there, and it can still be restored. We know from studies of side canyons that were flooded during the big water years of 1983/84 that the canyons are capable of flushing themselves out in a relatively short amount of time. We know that, with proper management, the riparian ecosystems--the willow, the cottonwoods, and the glens of gamble oak-- can return. The "bathtub ring" will disappear, and the canyon will recover, just as surely as the Grand Canyon has recovered from the volcanic dams that have twice blocked the river's flow there during the past 5 million years. To say that the Glen is gone is to lack imagination. Will it be different? Of course it will be different. But it can be back.